Eating In Tallinn
Tallinn is the wonderful capital city of Estonia and it is not only popular for its historic places, rich heritage of arts and culture or its vibrant night life for modern tourists. Your visit to Tallinn will never be complete until you get a taste of authentic Estonian cuisines and a mishmash of gastronomic delight from different cultures and influences. In and out the city centre, Tallinn is surrounded by café', bars, restaurants and family owned traditional taverns that definitely send food tourism to another level. And the best thing about all these is that each mouth watering meal is made from fresh local produce and it will not cost you a fortune to taste the best that Estonia can offer.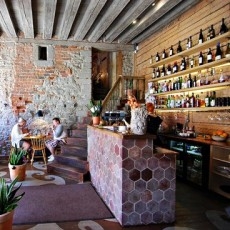 Rataskaevu 16
World class customer service, superior food quality and warm and comfortable atmosphere are what make it worth coming back to Rataskaevu 16. All cuisines are served fresh and for newcomers, their original and handmade artisan bread is one of the most delicious in the Baltic region. The restaurant's prime location puts you just across the 'Cat's Well'. However, you may need to make a reservation especially during peak hours. The Rataskaevu16 is a decent spot to enjoy a delightful meal or for an intimate light bite while enjoying a nice glass of wine.
Vegan Restoran V
The Vegan Restoran V is a newly unveiled vegan restaurant and claims to be the first ever pure vegan restaurant in Estonia. The restaurant is situated right in the centre of Tallinn's Old Town. They provide a very good assortment of scrumptious vegan dishes that you will enjoy for very good prices. The vegan culture is fast becoming popular in Estonia and with the large number of Vegan Westerners flocking to the city; this offers an opportunity for those who love the vegan diet to have a place to go to when visiting Tallinn. And since the menu here appeals to almost everyone, it is best to book a table in advance because of its growing customer base.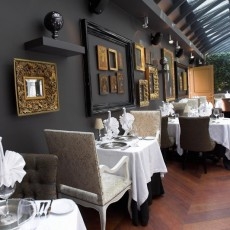 Tchaikovsky
Towards the end of the 18th century, the best French chefs found their way to Russia. The combination of French and Russian cuisine has presented the world a symbiosis forever abundant in flavors and this can only be enjoyed at Tchaikovsky here in Tallinn. The restaurant's passion is to recreate the dishes of forgotten food masters and blend them with their own expertise and interpretation, making Tchaikovsky a one of a kind restaurant in the city. The restaurant can only seat up to fifty five guests so it will be better to book a table in advance.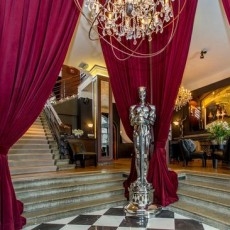 Restaurant Hermitage
The Hermitage is one of the finest restaurants in Tallinn and visitors can't help get carried away once they taste the Russian culture. Situated in the oldest hotel in Estonia, the cultural fusion of Russian and Estonian dishes are present in all traditional meals they offer with a bit of modern twist. The restaurant's menu provides a wide variety of treats that you can enjoy along with other original Russian delicatessens. In addition, the menu consists of classic dishes such as Russian borsch, beef stroganoff and chicken Kiev. The Hermitage is the classic international fusion of Russian and Estonian dishes that will leave you asking for more.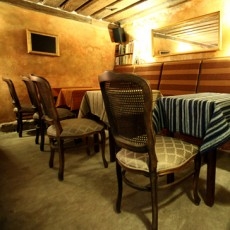 Von Krahli Aed
Ever since the Von Krahli Aed was first opened, it made sure that up until now, the establishment will make sure to serve the best dishes in the area. The restaurant was established with the growing popularity of contemporary Estonian cuisines and gradually, it has become the precursor to Tallinn's fantastic dining experience. Von Krahli Aed is also known not only as the finest restaurant in the city but as one of the remaining restaurants that has maintained its entity anchored to its Estonian roots. Von Krahli Aed boasts a comprehensive list of healthy menus and they only use local seasonal ingredients. The restaurant offers rustic, very cozy interiors where diners can have the best dining experience in the area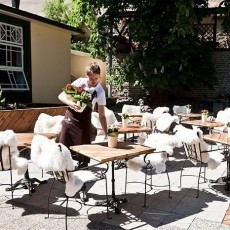 Leib Resto ja Aed
Leib means bread in Estonian and the name of the restaurant is an enduring proof the people of Estonia's strong ties to bread. Unlike other food establishments especially those that follow the traditional method of marketing, Leib Resto ja Aed does not focus on complicated, lavish blend of tastes or overly patronizing way of customer service that often translates to expensive prices. What they do is concentrate on the freshness and simplicity of their ingredients that appeal to the true roots of Estonian people. To get the freshest, highest quality produce, Leib Resto ja Aed works directly with local farmers, fishermen and other small producers.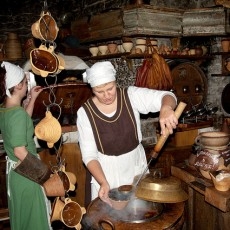 III Draakon
The III Draakon is ideally located in one of the most ancient parts of Tallinn's historic Town Hall. The medieval tavern never cease to refresh guests with its famous hearty servings of elk broth, grilled game sausages, very delectable pastries as well as their cheapest but tastiest beer and wine on the square. For those travelling on a budget but wants to experience a good dining experience in Tallinn, the III Draakon is the perfect choice particularly when almost all food items only cost around €1 to €3 and the drinks will only cost you just around €2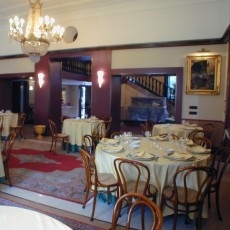 Il Gallo Nero
The main philosophy of IL Gallo Nero is to provide the best dinner to their customers or the most romantic ambiance to lovers. Apart from delightful dining experience, the restaurant offers an exclusive environment where guests can sit back, enjoy the food and reflect on life and the world while enjoying each other's company. At IL GALLO NERO, they make sure to make it as nice and comfortable for their guests so they only need to concentrate on the conversation and the delectable experience offered on the table. At IL GALLO NERO, the food is made simpler to make the taste more evident. When you visit the restaurant, you will definitely witness how their passion for the traditions found a modern form.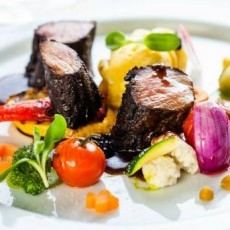 Mix
When it comes to the most delectable cuisine, innovative is simple. So technically, fusion cuisine, as featured by MIX, is innovative and ingenious. Having said that, to offer fusion cuisines that will appeal to all customers is not that simple. In English, fusion usually means integration, blend, mixture. MIX RESTORAN is the first ever fusion restaurant in Tallinn, situated in the well known street in the Old Town of Tallinn known as Pikk 33. Their range of unique and gastronomically delightful cuisines successfully brings together a traditional European cooking with Central Asia and cuisines of the Far East.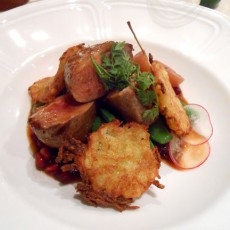 Kohvik MOON
Kohvik MOON is in its most successful operation when five years ago, they decided to throw their hats high and return to their roots. To quote one of their good acquaintances, and other wonderful people who are lucky enough to be admitted for the first time are one in idea that, "In order to move forward, you have to go back!" The unusual name, the unusual location is what makes people return and once again try what MOON has to offer. Some would say that this is a very ordinary place but once you get inside and try out everything they have to offer, you will definitely change your mind.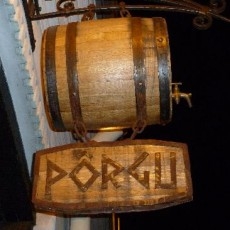 Porgu
Believe it or not, but it is nice to be at Porgu when you are looking for a nice place to dine in an relax while enjoying a good bottle of beer. They have an unprecedented selection of draft beer and countless bottled drinks for your enjoyment. Add in the savory à la carte dishes and cozy atmosphere and you are definitely in your own terrestrial paradise! All this makes Porgu the best choice for those who simply want to feel good for themselves and feel free to let themselves be carried away by the cozy ambiance.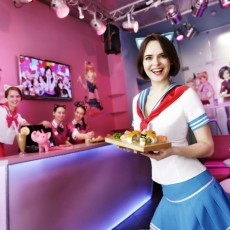 Sushi Cat
Sushi Cat launches new and exciting handmade beers! SUIYOUBI NEKO NO is an excellent example of Belgian-style beers made in Japan. Its smell translates to a very unique flowery taste and the feel of citrus note makes drinking seems more flavorful and kind of soft. Sushi Cat also has some very good Japanese craft beers and their TOKYO BLACK makes drinking chocolate and coffee a new and unique experience that will instantly allow you to feel the taste that is reminiscent of mocha latte drinks. Although there is a little bit of bitterness in the middle but the sweetness at the end of the sip is very rewarding.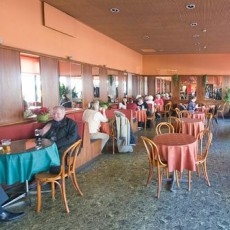 Energija Café
Do you know why locals love Energija Café? The restaurant has been around since Soviet Estonia and it is reminiscent of what Tallinn was like during the occupation. In the last twenty years, the only changes in the café are that most of its waitresses are older. Energija Café is not your typical café with modern ambiance and top of the line customer service. Entering the establishment is like being transported back to 1979 when rude bartenders with gentle hearts are the norm. You will definitely not be disappointed if you are searching for an exotic dining experience. Their potato salad and sprat-egg sandwich are among the favorites.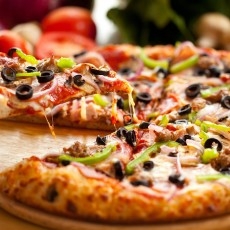 Pizza Grande
If you want to spend some quality time eating the most delectable pizza while drinking a glass of beer, you are more than welcome to step through Pizza Grande located at Väike-Karja 6. The place is very quiet and there is a shaded terrace where you can tranquilly enjoy your meal. They are known for their tasty pizza and fast service and since the prices are reasonable, eating there will not empty your wallet. Good food, good place, good beer. That is all you need for a relaxing, tasty afternoon.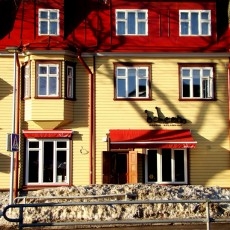 Boheem
A lot of people that visit Tallinn actually never leave the historic Old Town and there is no reasonable explanation as to why they do that. When you walk out of the ancient centre and walk past the central train station, you will be surprised to find yourself in a whole new world that would seem you had been transported back in time. The old Kalamaja district is full of history and it has an enthralling wooden architecture with lots of hidden wonders just like the Boheem. Locals and tourists alike love this place and if you love to eat pancakes like the locals do, ask for their "hapukoor" for your sauce.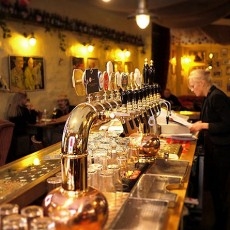 Drink Bar & Grill
If you have already visited Drink Bar & Grill, you would definitely agree to the overall belief that this is the beer Mecca of Tallinn. This bar and grill is famous for their comprehensive selection that comprises both local and imported beers. This establishment was originally started by an Englishman and with his experience in the business; he was able to establish something that would appeal to the taste of both the locals and the tourists. The pub also features regular comedy nights which is certainly astonishing considering the fact until recently, stand-up comedies has been absent from the traditional Estonian culture.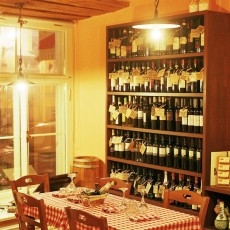 Trattoria Del Gallo Nero
Trattoria Del Gallo Nero is a small cozy establishment that is one out of a few dining havens that is widely recommended by those who have been in Tallinn. The interiors have that homey feeling you would only experience from a traditional, family owned restaurant. They offer a rich menu selection and among the favorites include their very delicious homemade pasta as well as other kinds of fodder. The restaurant has always been a bustling hub of interest and has continued to focus on their unsurpassed customer service.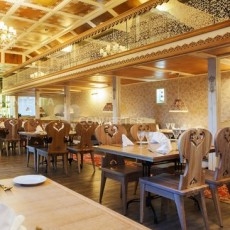 Neh, Masha Restaurant
Russian dishes are part of Russian traditions of hospitality. These people are well-known for welcoming their guests a step further than your typical hospitality and entertain them on a royal level. In addition, they also serve the most scrumptious meals that fully satisfy the guests' appetite. And to make sure that kind of tradition stay the same, the Neh, Masha Restaurant makes sure to keep an open table and present the finest Russian cuisine. Their menus include homemade pickled cucumbers, borsch with pampushka, pickled mushrooms taken from the forest's borders, homemade pelmeny, exotic pancakes with the most delectable red caviar, remarkable light pot cheese pancakes as well as herring with chilled vodka among many others!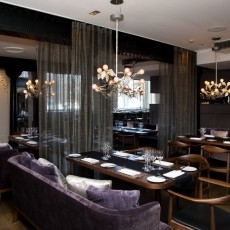 Kaks Kokka
Kaks Kokka is a sister company of Restaurant Ö. The restaurant is guided by Ranno Paukson and Martin Meikas, the two experienced head chefs from Saaremaa. When visiting Tallinn, the place is worth keeping in mind if you want to have a unique dining experience in Tallinn. Unlike other traditional restaurants in the area, Kaks Kokka is always changing and for regular visitors, the place is never exactly the same. The appeal of Kaks Kokka is not demarcated by compass directions or state borders because everything is based on fresh, high quality first-rate Estonian ingredients.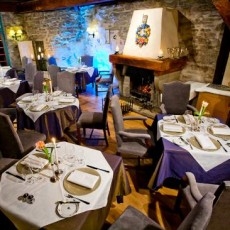 M.C. Grill
When you visit M.C. Grill in Tallinn, you'll notice the difference right away. It's not hard to see the reflection of the chef's dedication and inspiration on every dish he prepares making it one of the most popular choices among locals and tourists. M.C. Grill is able to uphold quality and superiority by making sure that they always have the right combination of elements that will match or even surpass any luxurious and opulent European restaurant. The restaurant is well known for its menu that consists of tempting and mouth watering contemporary and classic cuisines that only use high quality, fresh seasonal ingredients.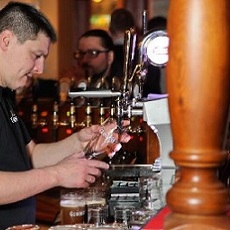 Hell Hunt
Hell Hunt is one of the few best places in Tallinn that provides a quiet refuge if you want to drink some quality tasting beer with your friends while avoiding the regular tourist scene in the city. Hell Hunt or The Gentle Wolf provides an open and comfortable drinking place that has that unique and tough sense of style. This kind of ambiance is what attracts locals and some tourists that know the area because of its no-nonsense, potent environment. When visiting Hell Hunt, do not forget to experience the pub's very own dark and light beers that were brewed in Viru Õlu. Apart from their own brand of beer, they also serve delicious yet affordable food.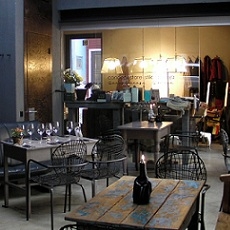 The Pierre Chocolaterie
The first ever Chocolaterie de Pierre café was established in the Old Town in Tallinn in 2003. Tucked away in the courtyard of the master craftsmen on Vene Street, the café radiates that unmistaken cozy ambiance. The Chocolaterie de Pierre café is hidden in plain sight because it is still easy to find if you chase the aromatic scent of brewed coffee and homemade chocolate and pay attention for the soothingly playing music that emanates from the café. Upon reaching the Chocolaterie de Pierre café, do not be surprised when you are greeted by Barry, the café's friendly Labrador.
Visiting Tallinn no matter what the season is always a tempting proposition. Apart from the range of activities you can immerse yourself in all throughout the weekend, there are lots of delectable, mouth watering places you can visit that will definitely make your stay in Tallinn worth cherishing for. Aside from great food and wonderful sceneries, customers also have the opportunity to hear live music that streams from the bar which sets the mood for the evening. All these are proof that Tallinn is fast becoming the hub capital of great food, good beer and great places to visit making it among the top destinations of tourists in and out of Eastern Europe.